Texas A&M Biology mourns the loss of longtime advisor Clint Crampton
Clinton C. "Clint" Crampton '99, a 2000 graduate of Texas A&M University and longtime academic advisor in the Texas A&M Department of Biology, passed away Saturday, May 23, at home in Brenham with his parents by his side as a result of complications from a long struggle with cancer at the age of 43. Clint was an advisor in the Biology Department for 16 years, where he helped countless undergraduates through their degrees. Please take a moment to read the TAMU Science article remembering Clint, who will be deeply missed.
Texas A&M University biologist Dr. Wayne K. Versaw has been selected by the Student Government Association to receive the 2020 SGA Open Education Champion Award for his efforts to implement open source textbooks for freshman biology courses. This award recognizes Texas A&M faculty members who promote or contribute to a culture of using open access materials with the broader goal of lessening the financial burden on students and mitigating the overall cost of receiving an education. Congratulations to Dr. Versaw, read more about his work and the award in the TAMU Science Article!
RESEARCH
Basic biological research has evolved into a broad, fast-paced and dynamic profession that drives newly emerging industries and actively shapes many human endeavors. Both globally and locally, cutting-edge research at Texas A&M University strives to understand the fundamental processes driving life around us and to improve the ways people everywhere manage their health and the health of our planet. The Department of Biology is responsible for research and teaching within the vast disciplines of the biological sciences, from molecular cell biology to ecology and evolutionary biology. Our faculty perform cutting-edge research in a wide array of biological sciences in the laboratory and in the field.
Our Graduate Program in Biology offers a diverse range of integrative training opportunities for students seeking a Ph.D. degree in the biological sciences. We offer training in multiple disciplines within Biology, including Molecular, Cellular and Developmental Biology, Ecology and Evolutionary Biology, Genetics, Genomics and Bioinformatics, Neurobiology and Behavior, Microbiology, Plant Biology, Biological Clocks, and Physiology and Systems Biology.
All students in our program receive rigorous academic training in biology and carry out their research in competitive, state-of-the-art research labs. Many faculty research programs span multiple research areas and levels of biological organization, creating a dynamic training environment for graduate students. Our graduate students conduct creative, independent research and scholarship. Graduates of our programs prepare themselves for a wide range of career opportunities and gain positions in academic institutions, government agencies, and industry.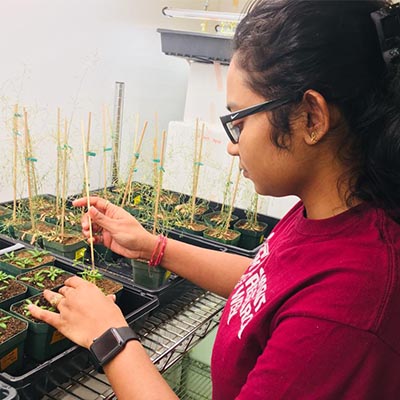 UNDERGRADUATE DEGREES
The Department of Biology is responsible for introducing biological principles to students in every Texas A&M University major. We provide modern and comprehensive B.S. and B.A. curricula in Biology, Molecular and Cell Biology, Microbiology, Neuroscience, and Zoology for more than 1500 undergraduate biology majors. These degrees prepare students for various life science careers and are an excellent entrée to the health care professions. If you are interested in pursuing a major in one of our disciplines, or if you are currently a student and would like information on courses or the program, we have excellent undergraduate advisors who will be happy to help you.