Congratulations to Texas A&M Biology's Program Coordinator for Graduate Advising, Jennifer Bradford, winner of the 2021 Excellence in Graduate Advising Award from the Office for Student Success! The purpose of the Excellence in Graduate Advising Award is to recognize academic advisors who help to create and nurture an environment in which highly qualified, diverse graduate and professional students can thrive. Please take a moment to read more about Jennifer and her well-deserved award!
Lt. Col. Patrick Kennedy graduated with a M.S. in Microbiology from the TAMU Biology program in 2005 while working in the Wayne Versaw Lab. Now in 2021, Lt. Col. Kennedy has earned a Henry M. Jackson Foundation for the Advancement of Military Medicine (HJF) 2021 Hero of Military Medicine Award for his work in confronting the Sars-Cov-2 pandemic early on and making significant contributions in the fight against COVID-19. Please read more about Lt. Col. Kennedy and his award, and also check out HJF's article about the work of the 2021 Heroes of Military of Medicine Awardees.
Congratulations to Ryan Rahman '22, a Biology major from Lubbock, TX, who has been awarded a 2021 Goldwater Foundation Scholarship in recognition of outstanding academic achievement and research potential! Goldwater Scholarships are awarded to exceptional sophomore or junior undergraduates who pursue research careers in mathematics, natural sciences, or engineering. Ryan's undergraduate research in the Gomer Laboratory is currently being written up in two manuscripts for publication, with one featuring him as first author. Read more about Ryan and the prestigious Barry M. Goldwater Award in the TAMU Undergraduate Article!
RESEARCH
Basic biological research has evolved into a broad, fast-paced and dynamic profession that drives newly emerging industries and actively shapes many human endeavors. Both globally and locally, cutting-edge research at Texas A&M University strives to understand the fundamental processes driving life around us and to improve the ways people everywhere manage their health and the health of our planet. The Department of Biology is responsible for research and teaching within the vast disciplines of the biological sciences, from molecular cell biology to ecology and evolutionary biology. Our faculty perform cutting-edge research in a wide array of biological sciences in the laboratory and in the field.
Our Graduate Program in Biology offers a diverse range of integrative training opportunities for students seeking a Ph.D. degree in the biological sciences. We offer training in multiple disciplines within Biology, including Molecular, Cellular and Developmental Biology, Ecology and Evolutionary Biology, Genetics, Genomics and Bioinformatics, Neurobiology and Behavior, Microbiology, Plant Biology, Biological Clocks, and Physiology and Systems Biology.
All students in our program receive rigorous academic training in biology and carry out their research in competitive, state-of-the-art research labs. Many faculty research programs span multiple research areas and levels of biological organization, creating a dynamic training environment for graduate students. Our graduate students conduct creative, independent research and scholarship. Graduates of our programs prepare themselves for a wide range of career opportunities and gain positions in academic institutions, government agencies, and industry.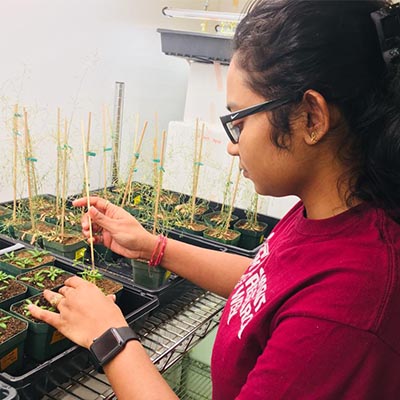 UNDERGRADUATE DEGREES
The Department of Biology is responsible for introducing biological principles to students in every Texas A&M University major. We provide modern and comprehensive B.S. and B.A. curricula in Biology, Molecular and Cell Biology, Microbiology, Neuroscience, and Zoology for more than 1500 undergraduate biology majors. These degrees prepare students for various life science careers and are an excellent entrée to the health care professions. If you are interested in pursuing a major in one of our disciplines, or if you are currently a student and would like information on courses or the program, we have excellent undergraduate advisors who will be happy to help you.